As part of our community outreach efforts, the GCU Learning Lounge is proud to offer academic support to local 2nd -12th grade students in our community. These students are tutored and mentored by specially trained college scholars who are passionate about helping the next generation of learners.
The Learning Lounge:
Provides virtual and in-person, one-on-one and small group academic assistance services at no cost to the student.
Learning Advocates (LEADs) are excelling college scholars in the areas of mathematics, reading and science.
LEADs possess high energy and have a passion to serve others.
LEADs receive specialized training to assist high school students.
NEW VIRTUAL LEARNING LOUNGE!
We are offering free 40-minute virtual tutoring sessions for grades 2 - 12! Please review the handbook and complete the permission form – you can find both in the Helpful Information and Forms section – before booking your first session. If you already signed a physical form during a previous in-person visit, you do not need to fill out an online form now.
Once your permission form is completed, scroll down to our Meet the Team section to book an appointment!
Have a quick question, or need last-minute help? Call us at 602-247-2030 to meet with an available LEAD.
IN-PERSON
Beyond academic assistance services, the Learning Lounge locations offers a study area with oversized couches and chairs, free technology area and many other amenities.
Helpful Information and Forms
To schedule time with a virtual tutor, choose a LEAD from the Meet the Team section below and select "Book an Appointment".
Upcoming Events
Our virtual Learning Lounge team is here to provide academic support to 2nd - 12th grade students in our community. These students are mentored by our Learning Advocates (LEADs): specially trained college scholars who are passionate about helping the next generation of learners.
To schedule a virtual learning appointment, please select a LEAD from the area of support listed below that most closely matches your needs based on language, grade, subject, etc.
*Yo hablo español.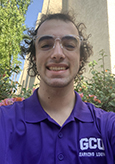 Major: Elementary Education
Tutors in: Reading/Writing (2nd-9th grades), Science - Biology, Anatomy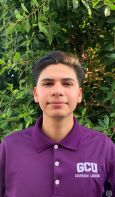 Major: Mechanical Engineering
Second language: Spanish
Tutors in: Math - Algebra 1-4, Geometry, Pre-Calc, Physics (7th-12th grade), Science (7th-12th grade)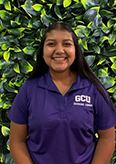 Major: Psychology with a minor in Public Administration
Second Language: Spanish
Tutors in: Math - Algebra, Geometry (8th - 12th grade) Science - Chemistry, Biology (8th - 12th grade) Writing (8th - 12th grade)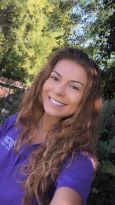 Major: Environmental Science
Tutors in: Science - Biology, Chemistry, Math - Physics (2nd-12th grade)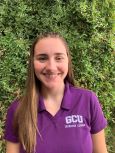 Major: Forensic Science
Tutors in: Math - Algebra I (2nd-12th grade), Science - Biology, Chemistry
Student Inspiring Students
Grand Canyon University's Students Inspiring Students Neighborhood Scholarship Program is a grassroots, self-funded initiative. This scholarship program provides local students with full tuition scholarships, making education an accessible reality for all. To be eligible for the Students Inspiring Students scholarship, students must demonstrate financial need, maintain a minimum 3.5 GPA and receive 100 hours of academic assistance at the Learning Lounge. Scholarship recipients then pay it forward by volunteering their time at the Learning Lounge to help the next generation of scholars.
For more information and to donate to this initiative, please visit gcu.edu/SIS.
To apply for this student scholarship, please visit gcu.edu/SISApply.
---
Contact Us
The two Valley locations where we proudly serve students remain unavailable at this time due to COVID-19. Please check back or follow us on social media for updates.
For questions about virtual tutoring sessions, please contact the Learning Lounge at 602-247-2030.
Connect with Us on Social Media
Grand Canyon University
Humanities and Social Sciences
3300 W. Camelback Road
Building 16
In-person Hours of Operation
TBD
Virtual Learning Lounge Hours of Operation
Monday – Friday (Grades 2 – 12)
3 – 8 pm
Saturday (Grades 2 – 12)
10 am – 2 pm
American Family Fields of Phoenix 
3805 N. 53rd Ave.
Phoenix, AZ 85031

To request more information about the GCU Learning Lounge and its services, please complete the form below:
For questions or more information, please contact Katy Donaldson at 602-639-8249 or [email protected].
---
Scholarship awards are intended to cover tuition, applicable enrollment and program fees and all other non-room and board costs. Tuition and fees will be covered by a combination of aid such as scholarships and grants from federal, state, private and institutional sources. The scholarship package cannot be applied toward parking, health insurance, housing or meal plan rates and is not transferrable, nor does it hold any cash value. This scholarship package is renewable for up to three years for eligible students who make timely application for renewal and meet all academic requirements. (Note: GCU strongly recommends a minimum of 50 hours of service in the GCU Learning Lounge per academic year in order to receive the letter of recommendation). To remain eligible, a student must be continuously enrolled full-time in the Fall/Spring semester and be in good academic standing. Full-time enrollment constitutes enrollment in 12 credits or more, 8 of which must be on the "Ground Campus." GCU reserves the right to decline to award a scholarship for any reason. If a student does not meet the minimum renewal criteria, a scholarship will not be renewed. GCU reserves the right to change scholarship award and/or renewal criteria at any time without prior notice.